Peruse some of our listings...
---
What guests are saying...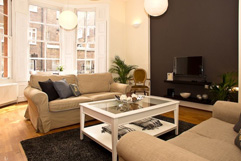 The Service from London Guest Suites and Global Guest Suites was great. The London contact went out of her way to get a second fan for the flat since we were there during the very unusual London heatwave. This made it very comfortable. The flat was perfect for two people - furnished with everything one would need. The location was great - right at Westminster Abbey and Parliament Square.

On our arrival a Porter was very helpful. They made our beds every day and took out the trash. Nice to come back to after a busy day of site seeing. Even put our clothes in the dryer. Older charming building, very comfortable beds and updated bathrooms. The living room accommodated all six of us to be together comfortably to watch TV or play a game together. Overall - a perfect flat for our needs
in London.
---
Find us in...
---
Global Guest Suites – Who We Are
Global Guest Suites is your global hotel-alternative destination! We offer rental apartments and rental homes in various cities around the world – and are adding more alternative-stay locations each month.
Looking to visit the Buckingham Palace or Abbey Road? One of our London short stay apartments will provide as the perfect residence while you visit landmarks such as these! As a city that's constantly changing and home to the world's most royal family, every corner of London has a tale to tell.
If you'd rather enjoy beautiful beaches or tree-lined boulevards, book one of our Los Angeles holiday apartments. You may see a celebrity in Beverly Hills or Hollywood!
Browse our Paris vacation apartments if you're seeking a combination of the classic and the modern! With 20 districts that spiral from the city's center, you can easily navigate the city to visit classic landmarks like the Eiffel Tower or the Moulin Rouge.
In business since 1990 and recognized for our superb customer service, Global Guest Suites is sure to be a great vacation-stay or business-stay alternative to the common hotel – regardless of the destination you choose. We're confident that if you give our guest suites a try, that you'll be back to one of our many suites for your next vacation!